Customer Reviews
SD
06/30/2020
Seth D.
Canada
Great addition need more diversity
My son is enjoying the magnets and when he gets a bit older and has friends of different backgrounds the other ppl will be more relevant. Right now, I would just like to be able to help him see our family somehow depicted and this still only kind of does that. It would be great if you could buy separate pieces. We need way more generations (grandparents and children) and more Asians and Blacks. Beautifully made and great concept though!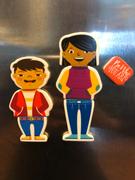 RB
01/14/2019
Robin B.
My Family Builders are my favorite toy!
I purchased the thirty-two piece sets for a community training at my organization around talking to kids about race. They were such a hit that I later bought them for my two-and-a-half-year-old niece who is mixed race. She loves them!
Great gift!
Purchased this set for my friend's two kiddos (3.5 and almost 2) and they played with them immediately and now the magnets live on the fridge. The kids love making families and my friend sends me videos of them enjoying the families they've made.
Great Magnets- very popular
I just purchased these magnets for my public library's magnet board and they are very popular. I appreciate how the magnet covers the entire back of the wood piece, too, so I'm not as concerned about a choking hazard for our littlest visitors. Thank you so much for your diverse representation of people and families.