Customer Reviews
06/07/2019
Christina M.
United States
16 piece set
Everything arrived quickly and in great condition!
09/05/2018
Myah I.
United States
Fun & Educational Toy
My children ages 0-5 years play with these magnets! It's a family favorite. We are a multiracial and multicultural family, so these help stimulate dialogue about differences even within our own family. We now share these sets with every new child in our extended family and at friends' birthday parties. Great find!!! Thank you.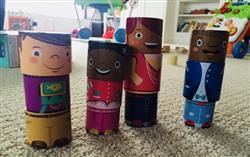 08/09/2018
Teresa R.
United States
Delighted toddler totally engaged physically, emotionally and cognitively!
A good investment in a well considered, well made product, I will have to get another set. This set went to my first niece and I plan to get another for another one who turns 2 in a few months. Great concept, great fun!
05/24/2018
Rebecca N.
United States
Beautiful set of diverse skin colors
Our toy library members were requesting more multicultural items and this item was recommended. It was quickly checked out! We love the way it feels in your hands. The magnets are strong. The packaging is simple. It's a great set for a child looking to create their own kind of people for play! Thank you!
01/14/2018
Luis B.
United States
Three Kings Gift
Bought this for my friend's daughter. She's one year old and I'm sure she won't really appreciate the wholeness of these yet, but she loved them. With time, I know it'll be invaluable for her to have grown up with her diverse little friends. Her parents loved it!